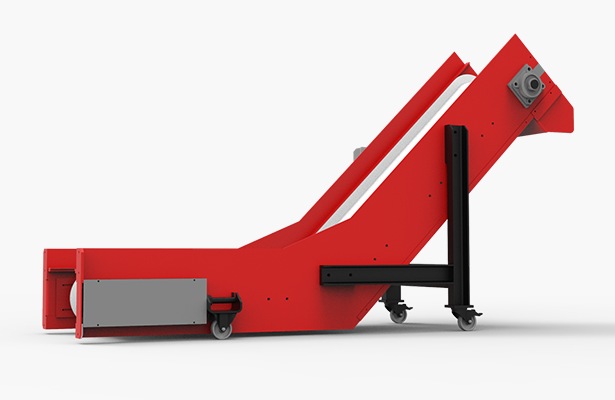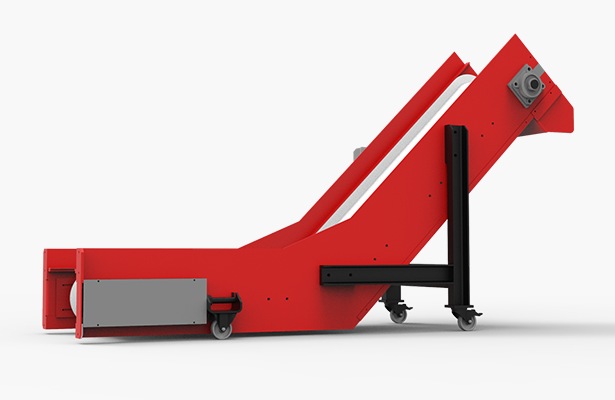 CONVEYING
Wire Mesh Belt Conveyor
Wire Mesh Belt Conveyors are used to transport parts and bulk material. The wide spectrum of available wire mesh configurations and materials enable an adaptation to any imaginable application. The high mechanical, chemical and thermal resistance can be particularly useful. That is why our Wire Mesh Belt Conveyors can be found in nearly any industry.
Typical application areas are the forming industry, hardening plants, and thermal treatment, general machine building or the chemistry and food industries.
Wire Mesh Belt Conveyors are manufactured from standard or alloyed steel wires with high stability. Large widths, loading capacities and a wide range of operational temperatures allow Wire Mesh Belt Conveyors to fit various applications. Especially when mechanical, chemical, thermal or other process related demands are made. Under chemical impact, their operation is enabled by a wide scale of chemically resistant steels and alloys in almost any corrosion scenario.
| WIRE MESH BELT CONVEYOR | |
| --- | --- |
| Line layout | Chain guided Wire Mesh Belts enable nearly any line layout, including multiple levels, if undivided. Non-guided Wire Mesh Belts are usually limited to linear line layouts. Sometimes they can incorporate horizontal inclines or declines. Special configurations also allow for a curved line layout. |
| Partition and wire mesh | We use all standard belt types, which include link, mesh, webbed, wire loop, crossbar, comb, and spiral-belts. Depending on the belt type and material, spacing between T4 and T50 are common. If the tensile force is high due to heavy loads, we combine a T50 wire belt and a T100 chain. In that case, the spare cross bar of the belt is reinforced by additional connections to the chain links. |
| Material | The choice of material is based on the demanded mechanical, thermal or chemical resistance. It ranges from standard steel to manganese- and chromium-nickel steel, as well as brass or phosphorous bronze. |
| Side rails | The side rails can feature an overlapped or cropped design. |
| Multiple lanes | A multi-lane Belt design is possible. The separation of the tracks is achieved by a single or double curb. In the dual lane configuration, a steel sheet can be fitted in-between the inner curbs to prevent parts from being mixed. Flawlessly separated transport is guaranteed, especially for small parts. |
| Chain configuration | The chain configuration is chosen depending on the technical and chemical demands, available installation space and required tensile force. We use hollow-pin chains which have proven to be very effective and dependable. |
| Drive | Drive alternatives are a direct drive with an attachable gear motor, or a chain drive with the motor console located above or below the conveyor. The belt is driven by sprocket wheels that interlink with the drive chains. |
| Carriers | We design the carriers for our Wire Mesh Belt Conveyors according to the material to be transported, throughput and incline. Carriers are bolted to flat bars that are located between the spirals. |
WIRE MESH BELT CONVEYOR
Applications
The Wire Mesh Belt Conveyor
Read more about the Wire Mesh Belt Conveyor, its options and its advantages.
If you have any questions or are interested, please contact us directly!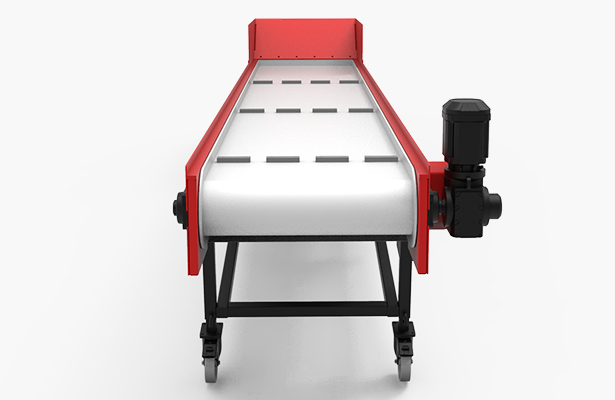 H-DESIGN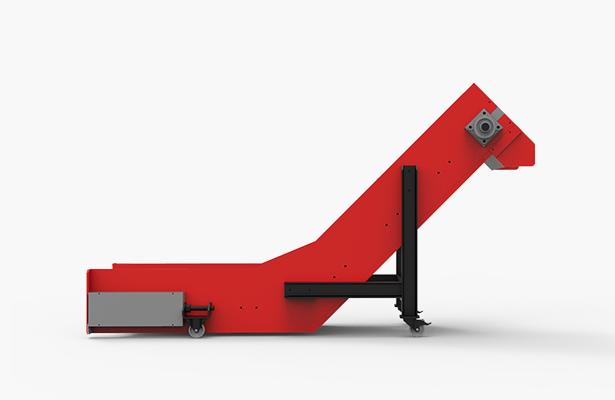 L-DESIGN
Z-DESIGN
WIRE MESH BELT CONVEYOR
Non-Guided or Chain-Guided
Non-guided Wire Mesh Belts are driven through friction by a drive pulley. Rubberized or ceramic plated drive pulleys increase the transmittable force. . Furthermore, the wrapping angle can be increased by snub pulleys.
Conveying speeds of up to three meters per minute can be achieved with Wire Mesh Belt Conveyors. Based on the load and operational conditions, the support structure is made of sheet metal, slide rails or carrier idlers. The line layout is usually linear. Sometimes horizontal inclines or declines are designed. The tension of the belt is controlled by a clamping spindle, spring tension, the weight of the belt itself or by weighted pulleys. Chain-guided Wire Mesh Belts use hollow-pin chains with idle pulleys as a support structure. Sprocket wheels drive the hollow-pin chain and thus the wire belt. This form fit enables a slip-free drive
even under heavy loads. As a result, considerably higher conveying speeds are possible when compared to non-guided belts. Also, the bending radius and overall size of the conveyors can be reduced. The chain guidance and attachment of carriers allow for multiple incline or decline angles. Side-rails increase the conveying diameter and seal the sides. The high density of the belt surface can be increased by adding corrugated metal or sheet metal. The belt tension is achieved by tension elements at the head pulleys.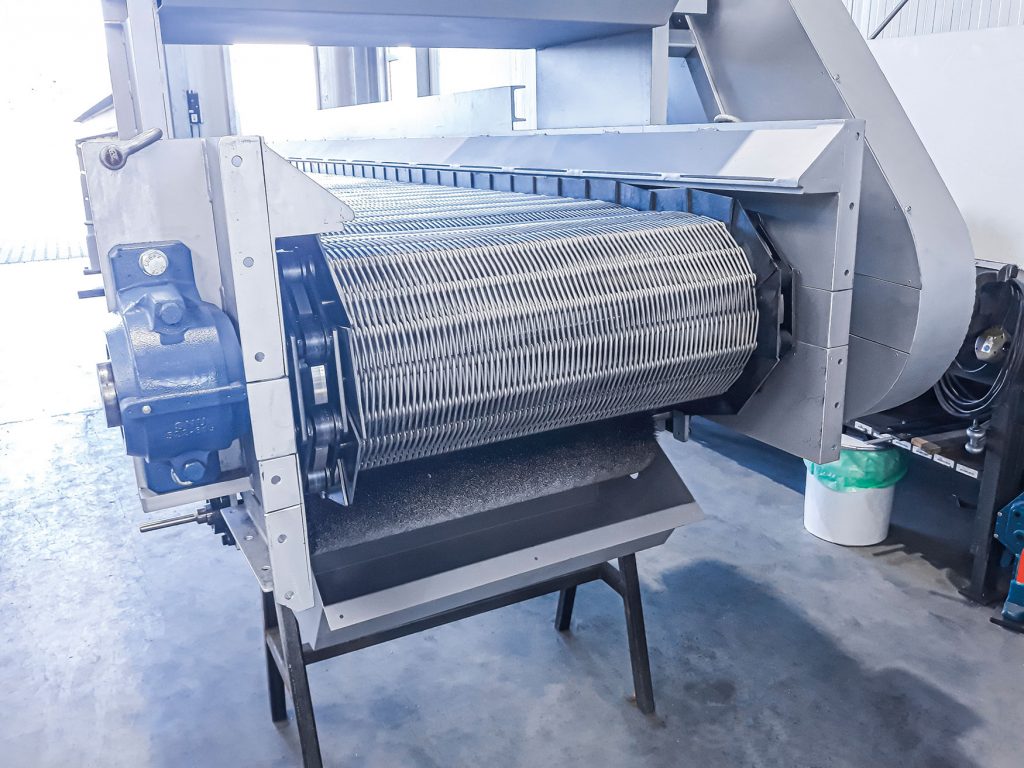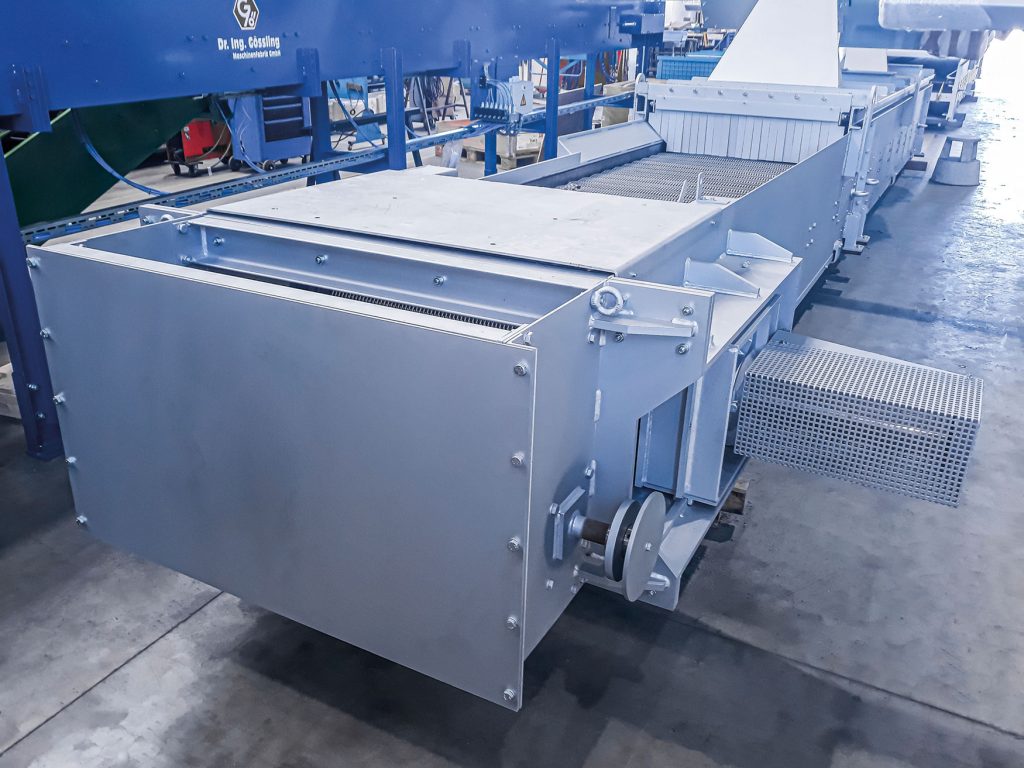 Low maintenance
Very robust
Operational in high temperatures
High chemical durability
Long lifetime
High permeability for fluids and air
APPLICATION AREA
Submerged Conveyors
In addition to the use of our Conveyors for transport or as part of a thermal process, use as a submerged conveyor is another common application. We supply these submerged conveyors as a complete system, including the tank, re-cooling system and tank heating.
CLOSE-MESHED & WIDE-MESHED
High Load Capacities and Permeability
Close-meshed Wire Mesh Belt Conveyors enable high tensile strains through the large total diameter of the spirals. Thus, the Wire-Belt Conveyor can transport large loads. Despite the necessary support structure for the belt that is made of sheet metal or slide rails, a long lifetime is assured thanks to a robust supporting surface. For high punctual loading of the belt, our Solid-Plate Belt is a good alternative.
Especially in the food industry, wide-meshed Wire Mesh Belts are used for coating, drying or heating processes. In addition, they enable transportation for light products and are implemented in cooling and washing processes.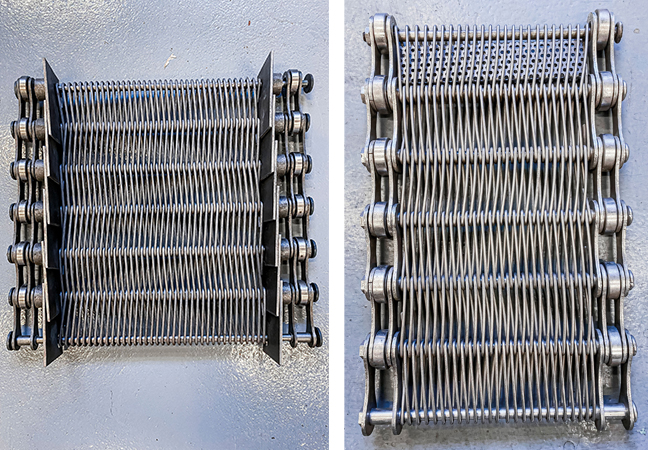 OPTION
Controlled Cooling
Due to their high permeability, Wire Mesh Belts perform excellent in controlled cooling applications when high temperatures from the forming process are reduced with fans. Since they are designed for handling materials with a weight of up to 11 lbs., we use our Solid-Plate Belts or Roller Chain Conveyors as an alternative for larger masses.
CONTACT FORM
Write to us!
You can can contact us quickly and easily using the form below. We will get back to you as soon as possible!
Or you can reach our headquarters at + (423) 915 – 0472.