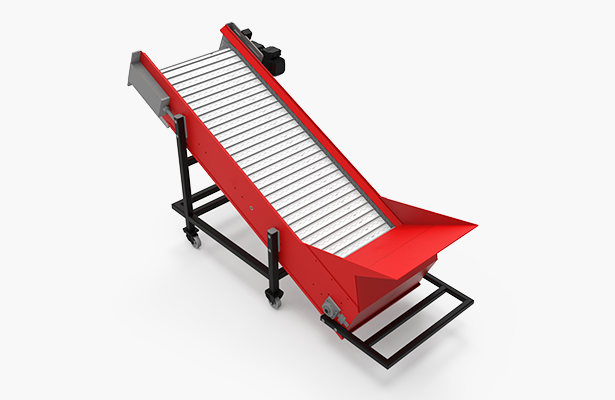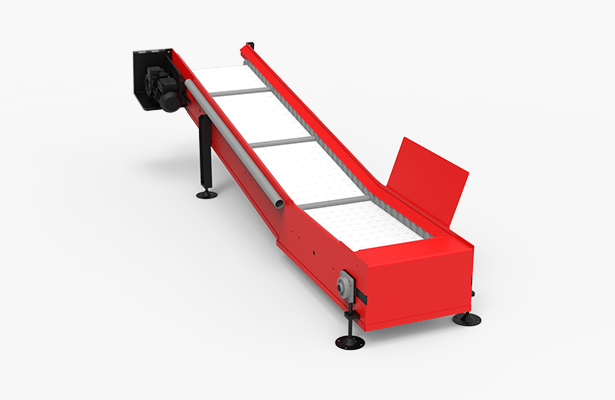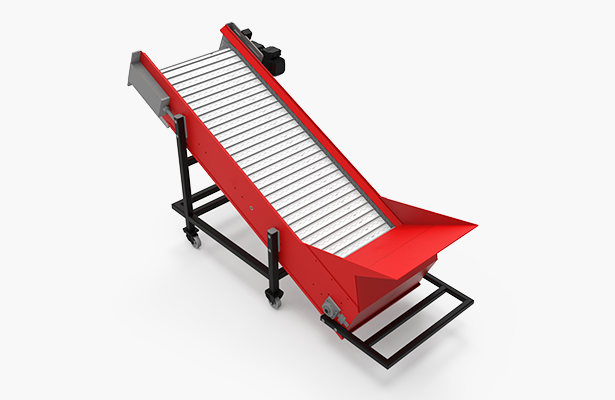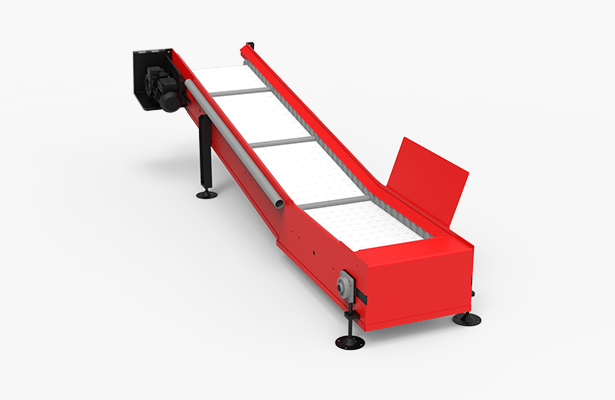 CONVEYING
Hinged Belt Conveyor
The robust and flexible solution for your conveying needs.
The design of our Hinged Belt Conveyors and Hinged Plate Belts aims for high durability and thus optimal productivity of your production plant. We also deliver various accessories for example: Swivel slides and multi-track switches.
We offer complex, large collecting systems for scrap disposal that are specially designed for fully automated filling of scrap containers, including container swapping systems. The skeletal frame structure used in these systems, along with the use of rotational brushes or vibration drives that clean the belt ensure easy maintenance and consistent operation.
In heat treatment processes, Steel Hinged Belt Conveyors are used as immersion-bath conveyors for lighter weight drop forged parts (e.g. screws, bevel wheels or bearing rings ranging from 2-11 lbs. per piece) in water-, emulsion-, and oil quenching baths.
Our Hinged Belt Conveyors for the disposal of die casting waste are designed to prevent die casted parts (that often feature very sharp, pointed edges) from getting caught or trapped. The gap sizes are designed to be very small, and the hinged belt surface is even and level. Circulating side wings limit the effective belt width.
At the conveyor discharge end, a height and tilt adjustable separating roll is placed above an angled sliding surface. The roll lets small parts pass through, while larger components are conveyed laterally to be discharged along the side.
In a continuous flow, the die casted parts are separated before the next round is cast. The opening gap can be precisely adjusted by use of a hand wheel.
| WELDED | |
| --- | --- |
| Line management | Practically any configuration possible |
| Size designations | T50 (50.8 mm), T60 (63 mm), T100 (101,6 mm), T125 (125 mm), T150 (152.4 mm), T160 (160 mm) up to T200 (200 mm) |
| Sheet thickness | Varies by size |
| Material | All segments are available in standard and stainless steel. The base plate is also available in hardened steel. |
| Effective widths | 8" up to 63" available |
| | |
STAMPED
Line management
Practically any configuration possible
Size designations
T12 (12.7mm), T20 (19.05 mm), T30 (31.75 mm), T40 (38.1 mm), T50 (50,8 mm), T63 (63 mm) , T125 (125 mm), up to T150 (152.4 mm)
Effective width
Multiple widths up to 138"
Incline conveying
Up to 85°
Sheet thickness
Varies by size, for segments T63 and larger, two sheet strengths can be chosen from
Material
Sizes T125 and smaller are generally available in standard and stainless steel. In order to minimize gap sizes, we use cold rolled material for the sizes T12, T20 and T40.

The size T30 serves as an extremely robust alternative to most standard hinged belts on the market. It features 3 mm of sheet thickness, a crossbar diameter of 10 mm and is specifically designed to be driven directly at the segment pulleys. This is available for all other sizes as well. This allows the drive chains to be eliminated.
HINGED BELT CONVEYOR
Applications
The Hinged Belt Conveyor
Read more about the hinged belt conveyor, its options and its advantages .
If you have any questions or are interested, please contact us directly!
More robust than other designs
Continuous hinges on all effective widths (no pieced together smaller widths)
Fast replacement of hinges (without opening drive chains)
Hollow-pin chains without wear through tensile force
Crossbars free of shear and bending stress (as far as possible)
Optimal seal without overlapping contours through use of PS-side wings
Steel block rails (for sealing purposes and for guiding the material to be conveyed)
Hollow-pin chains with flanged rollers
Nearly maintenance free drive and tensioning components
HINGED BELT CONVEYOR
Robust and Flexible Solution
The design of our Hinged Belt Conveyors and Hinged Plate Belts aims for high durability and thus optimal productivity of your production plant. We also deliver various accessories for example: Swivel slides and multi-track switches.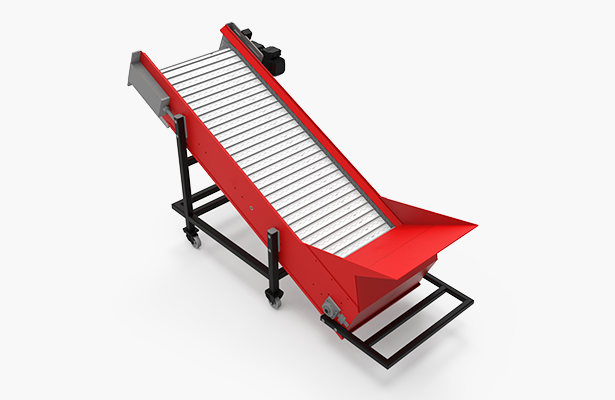 H-DESIGN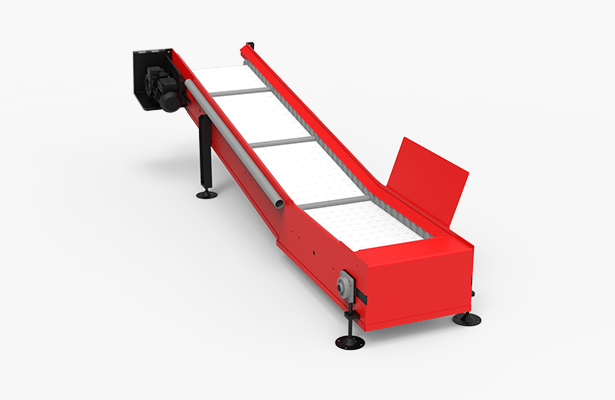 L-DESIGN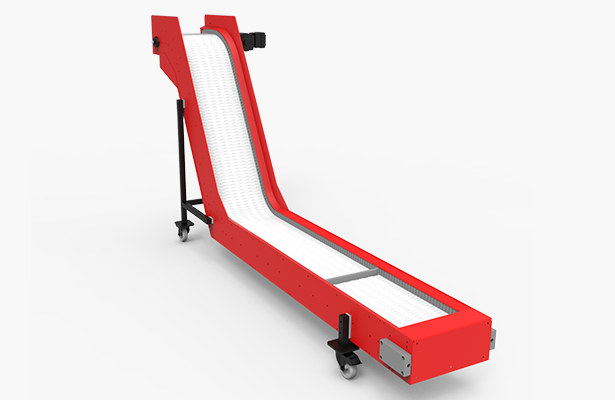 Z-DESIGN
SEGMENTS
Welded or Stamped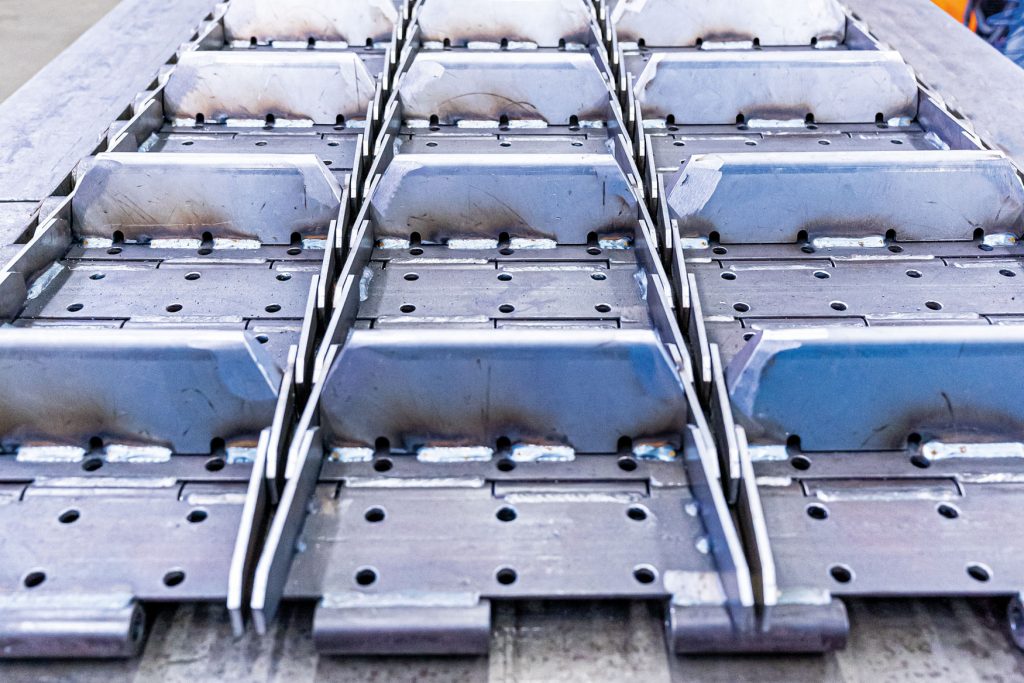 The transportation of heavy casting parts or glowing forgings under environmental conditions such as heat, scale, sand and water, requires the most robust conveying belts. Our Hinged Belt Conveyors with completely welded hinge elements meet these high demands.
From an engineering standpoint there are virtually no limits to the design of the hinge segments. Standard steel cross-sections or steel plates, optionally reinforced, are welded to hinge eyes made of seamlessly drawn steel. They are typically aligned to create a flat hinge surface. Due to this flexibility and the ability to adjust the gap size according to the conveying material's temperature, each belt is an individual solution and is perfectly tailored to your conveying material.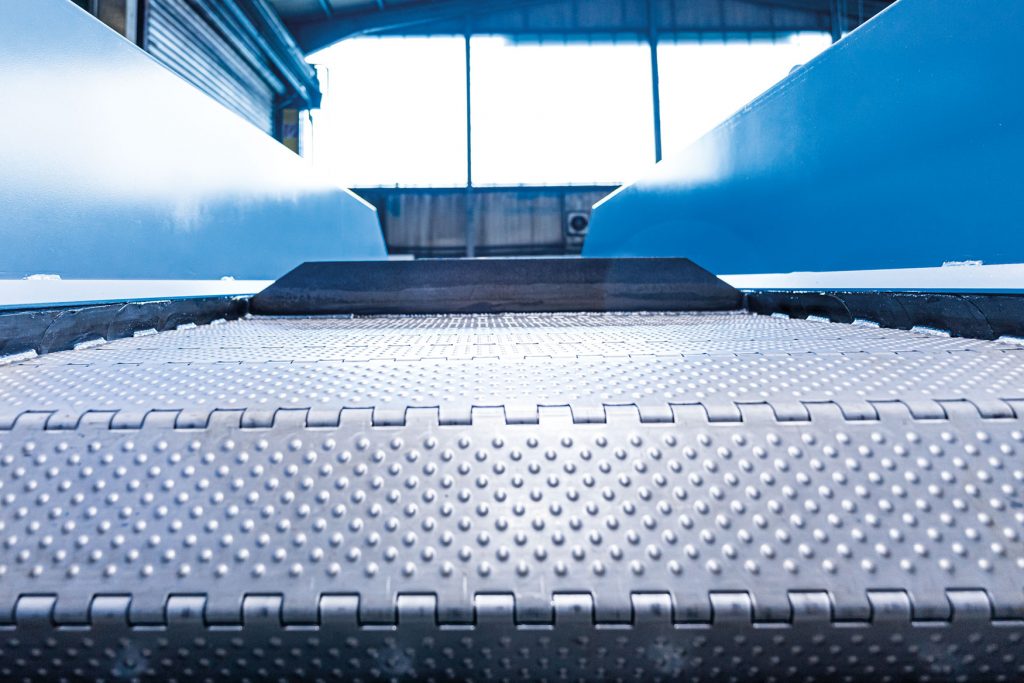 Our Hinged Belt Conveyors feature stamped hinge segments made of high strength steel, that is cold- or hot-rolled. They can be used in the entire metal processing industry as well as many other universal applications. Numerous technical design options enable individual solution concepts tailored to your conveying task.
Undivided hinge segments in the effective width that you demand, as well as a flat belt surface thanks to flat hinge cranking, effectively prevent the conveying material from jamming. Due to their high reliability, our hinged belt conveyors are also used for the disposal of stamping scrap.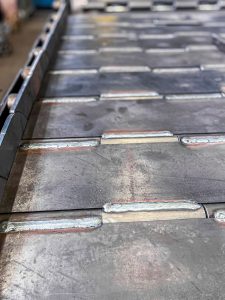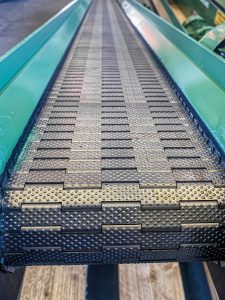 OPTION
Segment Reinforcement
To reinforce the segments, it is possible to weld on additional hardened steel. This is accomplished by adding steel profiled or solid material to the bottom (or the top) of the segment. For conveying sensitive materials, plastic elements are bolted onto the segment.
OPTION
Multiple Lane
Our conveyors featuring multiple lanes are designed with separate belts for each lane. They are divided by single or double side-wings that are welded to the individual hinged segments. In the double side-winged version, a metal sheet can be placed in between the side-wings to prevent parts from being mixed. The result is perfectly separated material transport, especially for small parts.
OPTION
Two Various Drives
The alternatives are a direct driven attachable gear motor or an indirect chain drive with motor console and chain cover. In the standard configuration, the hinged belt is driven by gear sprockets that interlink with the drive chains on either side of the belt. For space limitations or if a lateral discharge is required, we offer a design without drive chains. In this design, the hinged belt is driven directly by the pulleys. We call this a "polygon drive".
direct driven attachable gear drive
chain driven with drive console and chain cover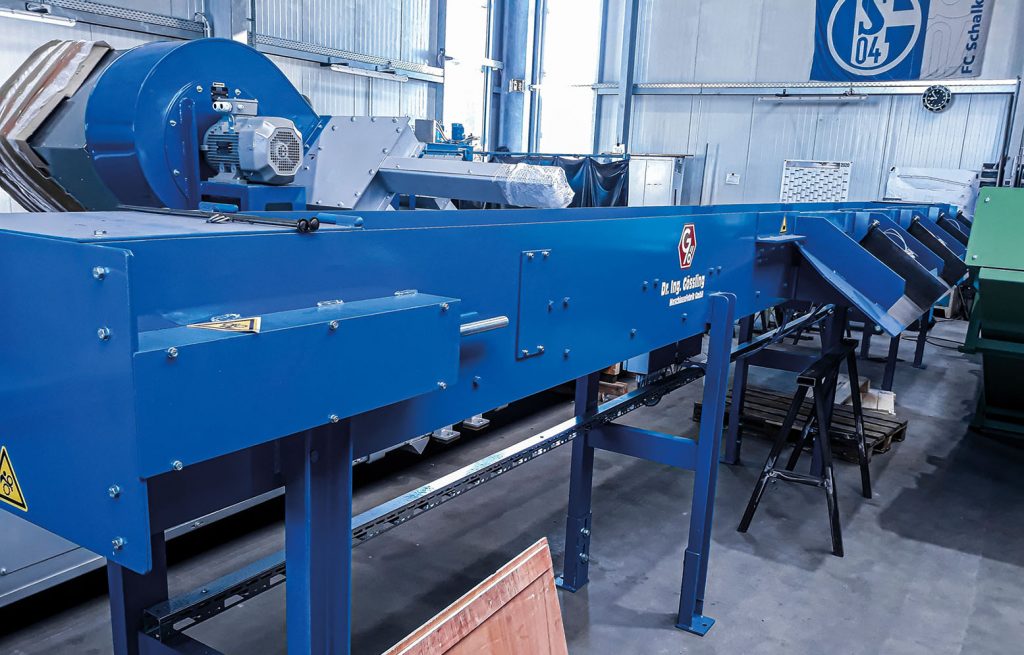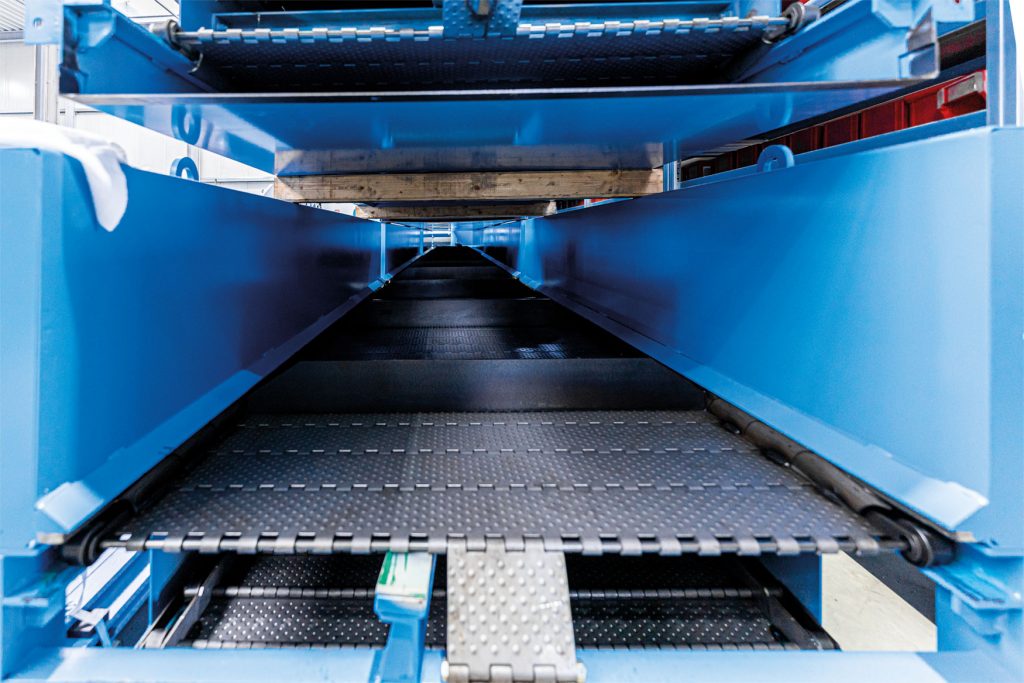 OPTION
Surface and Side-Wings
The adhesive properties of the conveying material and the amount of liquid adhesion determine the design of the segment surface and side-wings to be used. We offer pimpled, perforated, smooth and any combination of these surfaces. The side-wings are available in PS-laser cut design (which do not have overlapping edges) or in an offset / scaled variant.
OPTION
Carriers (flights)
We design the carriers (flights) for the Hinged Belt Conveyor based on the product it conveys, its throughput and the incline angle. For conveying sensitive goods, we use plastic carriers or bolted protective caps made from plastic.
OPTION
Chain Configuration
The chain configuration is based on the available installation space and necessary tensile strength. Hollow-pin chains with and without flange rollers in a range of sizes can be chosen from.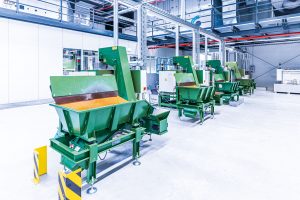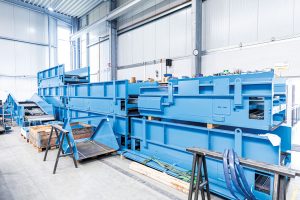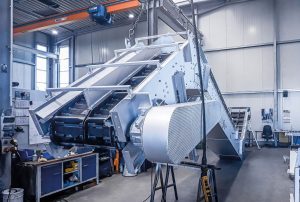 TEST CENTER
Tests with Client Parts
We have a test unit in our test center that can be used to carry out variuos tests. By adjusting to different shapes and demands, we set the foundation to creating a client's individual, optimal result. To perform tests on site, the test unit will require installation into the production line and sample batches must be ran for results. Feel free to reach out to us for more information!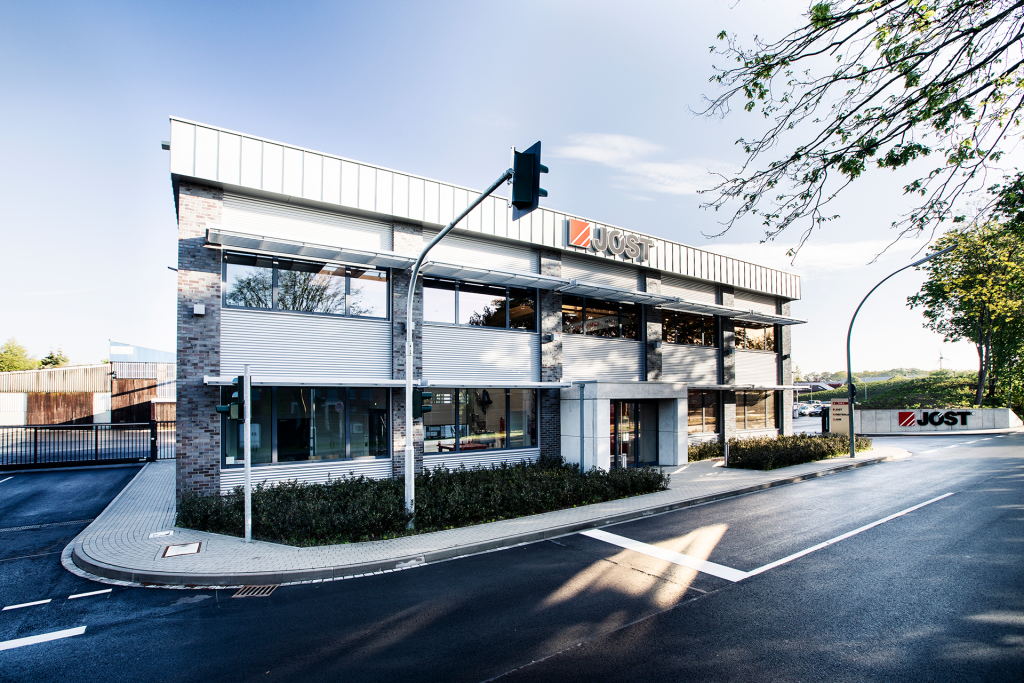 CONTACT FORM
Write to us!
You can can contact us quickly and easily using the form below. We will get back to you as soon as possible!
Or you can reach our headquarters at + (423) 915 – 0472.