HINGED STEEL PLATE CONVEYOR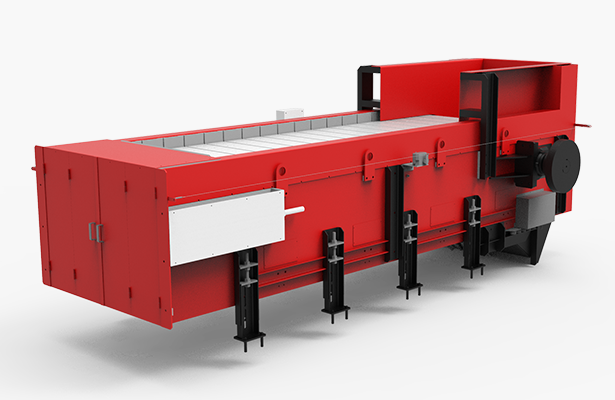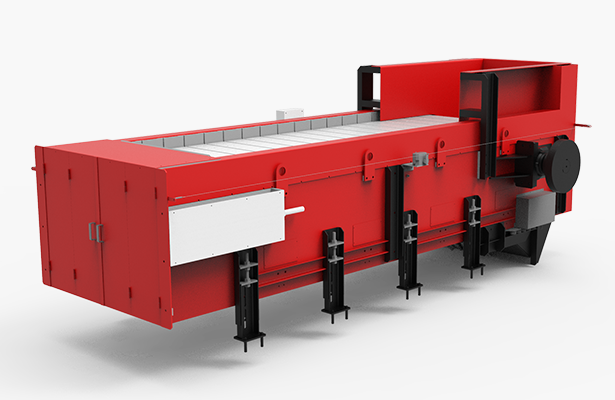 CONVEYING
Hinged Steel Plate Conveyor
We deliver Hinged Steel Plate Conveyors for the transport of heavy materials. This includes glowing hot steel and forging parts, hot and abrasive bulk material such as hot sinter, and used hot forging sand.
We also offer Hinged Steel Plate Conveyors that transport scrap metal, waste and other contaminated bulk materials, recycling paper transport (pulper feeding), and as a cooling belt for foundries. For crusher charging, we deliver heavy duty steel plate conveyors that handle gravel and large rocks of up to one ton per piece (according to impact and wear forces).
Leveled heavy steel plate conveyors that transport heavy pallets or containers loaded with bricks, aerated concrete, sand-lime bricks or cobblestone are also available. We also offer conveyors for molding boxes used as collecting containers at shake out stations in foundries, as well as for assembly of machines, drives and vehicles (assembly lines).
In an angled configuration, Hinged Steel Plate Conveyors also serve as a way to charge large recycling containers and for other means of waste disposal.
The hinged plate belt is driven by dual bush chains. They carry the entire load of the conveying belt. For heavy duty applications, the chains are reinforced with stub rollers bolted to every second link. In general, the supporting elements of the chain roll efficiently across special supporting rails within the conveyor's frame. Gear sprockets at the ends of the conveyor interlink with the chains in to drive the belt, creating the required tension and assist with belt rotation. A Hinged Plate Conveyor has flanged rollers which are an element of the chain itself and stub rollers which act as additional supporting rollers. The flanged rollers in the chain usually use friction bearings, but sealed rolling bearings are also an option. The separate support rollers outside of the chain are either drop-forged or chill casted and have dual rolling bearings on the inside that fit around the socket pin. These bearings are fitted with a special seal, allowing them to resist even the toughest and dustiest applications.
| HINGED STEEL PLATE CONVEYOR | |
| --- | --- |
| Line management | any line configuration possible |
| Size designations | From T150 (152.4 mm), T160 (160 mm), T200 (200 mm), up to T250 (250 mm) |
| Sheet thickness | Varies by size |
| Material | All sizes are available in standard and stainless steel. The base plate is also available in hardened steel. |
| Effective widths | Multiple widths up to 78" |
PLATE CONVEYOR
Applications
The Hinged Steel Plate Conveyor
Read more about The Hinged Steel Plate Conveyor, its options and its advantages.
If you have any questions or are interested, please contact us directly!
High load capacity and stability
Low maintenance
High flexibility with numerous design options
Long lifetime
ADVANTAGE
High Adaptability
Effective widths, distance between axles and line management of the Hinged Plate Conveyors depend on the application and local conditions. They are designed for rough, wear and heat intensive applications. We have years of experience in manufacturing Hinged Plate Conveyors and have developed designs that ensure a long life of operation with very minimal wear. By using high quality materials and state of the art sealing and guiding elements, we can supply our customers with conveyors that have a considerably long life expectancy.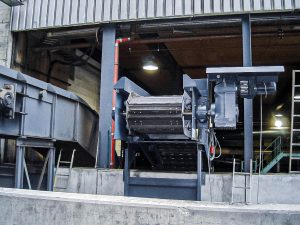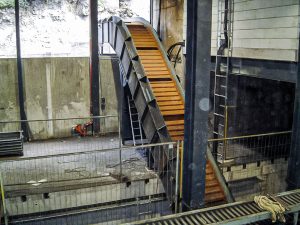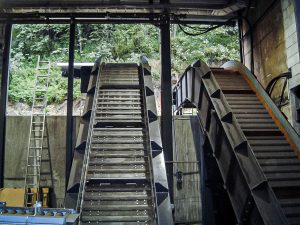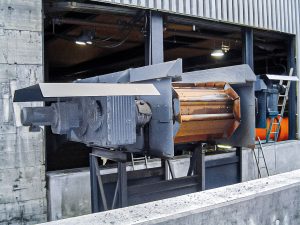 SUPPORTING STRUCTURE
Workpiece Conveyor
Steel Plate Conveyors are also often designed for use as workpiece conveyors. These conveyors are usually "timed" and include a mount that holds the workpieces on their steel plates. Their shape is adapted according to the workpieces. In this case, highly robust conveyors can be designed for various handling processes. The mounts for the conveyed parts are often standard steel crossbars or for gentler handling wood is used alternatively. We supply various Assembly Hinged Plate Belts with or without workpiece mounts.
APPLICATION BASED
Segment Design
The design of the Hinged Plate Conveyor's segments is always based on the application. By implementing an overlapping steel plate design, a sealed belt is achieved which enables effortless handling of grained bulk materials including foundry sand, hot sinter and rock-earth-mixtures when charging a crusher. Deep-drawn cup segments or steel cell segments are used for incline angles greater than 20°. Circulating lateral side walls create a "trough-like" cross section of the conveyor carrying surface. The guiding drive chains are located beneath or next to the steel segments where they are well protected. In heavy load applications, the steel segments of the Steel Plate Conveyor are equipped with additional cross bracing on the underside of the segment. Highly wear resistant manganese steel is used to add even more impact and wear resistance to the system to meet toughest application demands.
SPECIFICATION
Hopper and Side Wall Design
We deliver Steel Plate Conveyors with charging hoppers and raised side walls specifically for crusher and mill charging. In that case, they serve as hopper conveyors with temporary storage. To transport waste, the belts have to be designed in a way that prevents any small debris from being trapped inside the machine. Therefore, special attention is paid to the seal of the circulating lateral side walls.
DO YOU HAVE
QUESTIONS ABOUT
THE HINGED STEEL PLATE
CONVEYOR?
CONTACT FORM
Write to us!
You can can contact us quickly and easily using the form below. We will get back to you as soon as possible!
Or you can reach our headquarters at + (423) 915 – 0472.
LEARN MORE
Other Products